Prevent Water Damage in La Quinta, CA
Background
Homeowners can benefit from the protection and peace of mind that the WaterCop system provides.
Property damage caused by aging and faulty plumbing is one of the most common home insurance claims. Annually more than 2,500,000 homeowners fall victim, and the damages total billions of dollars in preventable losses. Valuables such as artwork, antiques, computers and electronic data, photographs, and other heirlooms are often difficult or impossible to fully replace.
Insurance helps ease the pain of repairs but will not fully replace your valuable property or alleviate the hassle, anguish, and disruption associated with a devastating interior flood loss.
How Does WaterCop Work
The WaterCop automatic shutoff valve installs on the main water line near the existing manual shutoff valve. WaterCop flood sensors connect near water-using appliances and in rooms where running water is present. When leaking water comes in contact with any of the sensors, a wireless signal is immediately broadcast to the WaterCop main valve causing the valve to close. Water flow is quickly cut off to all areas of the home, and any continuous flooding is stopped.
WaterCop offers additional options including;
A Wall Switch for Convenient Push-Button Main Water Control
Freeze Sensors to Help Stop Damage Caused by Frozen Pipes
Easy Integration with Home Security Systems
Range Extending Wireless Repeaters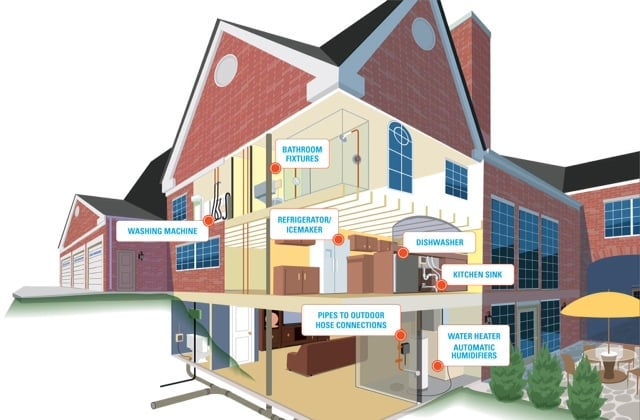 Flood damage and losses related to plumbing problems can lead to higher home insurance costs and possibly the loss of affordable coverage altogether. The WaterCop system, when properly installed and maintained, offers a proven method to effectively reduce the chance of catastrophic plumbing-related flooding. WaterCop Systems are ideal protection for:
Single Family Residences
Multi-Family Residences
Vacation Homes & Villas
Rental Homes & Apartments
Senior Living Homes & Centers
Offices
Dormitories
Condominiums
Laundry Businesses