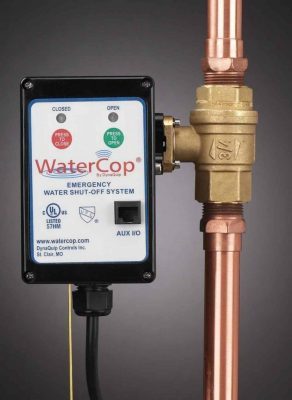 Home Flood Prevention is a proud dealer of WaterCop products. These high-end selections include sensors and automatic shutoff valves that are made to shut down your plumbing system in the event of an accidental leak. Our business has years of experience selling and installing these products for homeowners all over the country. Making an investment in your home starts the minute you pick up the phone or press send on an email.
The heart of the Classic WaterCop system is the actuator and valve. When notified by a sensor or your remote switch, the system will stop the flow of water into your home. This puts a stop to water damage before it even starts. There is also a remote wall switch that you can use to turn off your entire water system at any time. All you have to do is press a button, and it's off. A simple press of the button again turns the system back on.
It does not matter if you are seeking for a flood prevention system for a rental property or just looking for products to keep you current home safe, you can rest assured that our business will be able t provide you with high-end selections that work well. Pick up the phone and call us today at (706) 564-8840 to speak to a member of our team. We serve customers throughout the United States with sales and technical support.